Spring Into The Season: 6 Ways to Celebrate the Cherry Blossom Festival At-Home
Just in time for spring, discover these COVID-safe activities for the

sakura

season, also known as the Cherry Blossom Festival.
A year has passed since COVID-19 came into our lives, but one thing that we've proven as a community is that it hasn't stopped us from enjoying the natural beauty of our earth! During these tough times, nature has proven to be resilient and a source of pleasure for many when faced with lockdowns and uncertainties.
Now with spring around the corner, tones of pink & white will be taking over cities around the world, a delight to stop, appreciate, and take in the transcendent, fleeting beauty of sakura, the Japanese term for cherry blossoms.
Stemming from Japanese traditions, the simple act of flower-viewing is referred to as hanami: a cultural tradition dating back to the Nara period of ancient Japan. Back then, members of the imperial court would gather to appreciate the fleeting beauty of the sakura. Nowadays, people across Japanese society gather under the cherry trees to enjoy food & music with loved ones. Many parks and gardens light up their cherry blossom trees from sundown for yozakura, also known as "night-time sakura". This festival not only symbolizes the renewal that comes with spring, but it also gathers different communities as nature has no boundaries. A well-known Haiku poet Kobayashi Issa once wrote: "In the cherry blossom's shade, there's no such thing as a stranger."
VIEWING CHERRY BLOSSOMS AT NIGHT

Surely, this year we can't reunite with large groups of loved ones, but we can definitely practice our new sense of appreciation for nature with the blooming of the sakura. Their ephemeral beauty reminds us to seize the moment, to acknowledge the beauty in life, and to value what we have. In response to their beauty, we are united and more connected than ever. Join us at TEALEAVES in celebrating the Cherry Blossom Festival 2021 with these COVID-safe sakura-themed activities. Distanced in nature yet connected in intention.
---
Baking is proven to be incredibly therapeutic so why not take up this relaxing pastime? And if you're already on the baking bandwagon, why not take your skills to the next level? As the cherry blossom season is the perfect time to reflect and regenerate, what a better way to practice both by putting on your creativity hat and baking these elegant treats.
A spin on the classic French pastry, these Matcha Madeleines are easy to make and are good for you. The star ingredient, Matcha, includes a high level of antioxidants as well as key amino acids that promote relaxation and well-being. Top it off with a delicious homemade tea latte by whisking up TEALEAVES Tencha Matcha with frothed milk or cream. Smooth and creamy (like green tea ice cream), a Matcha latte strikes the right balance between health and indulgence, a treat for both the mind and body..
---
Discover the Japanese Way of Tea
The Japanese Tea Ceremony's four principles of harmony, respect, purity, and tranquility, are what we aspire to nurture during the sakura season. What a better way to understand this practice of peace and appreciation than to learn about Chadō: The Way of Tea. This practice of tea exhibits the high art and technique of otemae (performance of Chadō) and is influenced by Zen Buddhism and tea appreciation.
Kick your feet up, grab your cup of Tencha Matcha, and discover the serenity and art behind Chadō in this video.
---
Feeling like one of the Japanese haiku greats? You don't need to be under a sakura tree in Tokyo's Shinjuku Gyoen to feel moved, inspiration strikes when one is feeling in touch with themselves and their surroundings. No matter where you are.
To spark your imagination, here's a classic from Basho Matsuo:
Very brief –
Gleam of blossoms in the treetops
On a moonlit night.
Get out your pen (or feather, for added allure) and paper and take a stab at this classic art form. Of course, a steaming cup of tea will help get your creativity flowing. Pair your haiku experience with our Ginger Yuzu herbal tea.
---
Make a Sakura-Inspired Nightcap
Are you looking for a fresh in-season after-work cocktail? Inspired by the delicate yet uplifting nature of the cherry blossoms, the Sakura Sidecar cocktail was created by the H Tasting Lounge at the Westin Bayshore Hotel in Vancouver, BC. Our lucky team at TEALEAVES has been the keyholders to the recipe and now we want to share it with you! What a better way to hit reset with a new cocktail in your mixology repertoire! Enjoy this creative new twist using our Cherry Blossom green tea.
---
Put a Twist on Your Classic Sake
Who doesn't love coconut? With spring at our footsteps, summer is the next season on everyone's minds! Certain sake manufacturers in Japan typically release limited-edition springtime varieties of sakura-themed sake, but this Midori Kokonattsu cocktail recipe takes your classic sake to another level! Named after a green coconut, you will surely indulge in the smooth combination of sake with the creaminess of white chocolate, the earthiness of Tencha Matcha, and the sweet flavours of coconut.
---
New Season, New You: Practice Self-Care
Tired of wondering what ingredients your skincare products actually have? Learning what works well with our skin type and gaining control of our beauty regime is an art form: we are consistently developing and improving it with time. As we've been spending most of our time at home, all of us have experimented with recipes, puzzles, and anything to keep us afloat! So, why not dabble in DIY skincare?
Our Tencha Matcha is a superstar when it comes to skincare. Get ready to glow and reinvigorate your spring skincare regimen with our most hydrating teas for skin.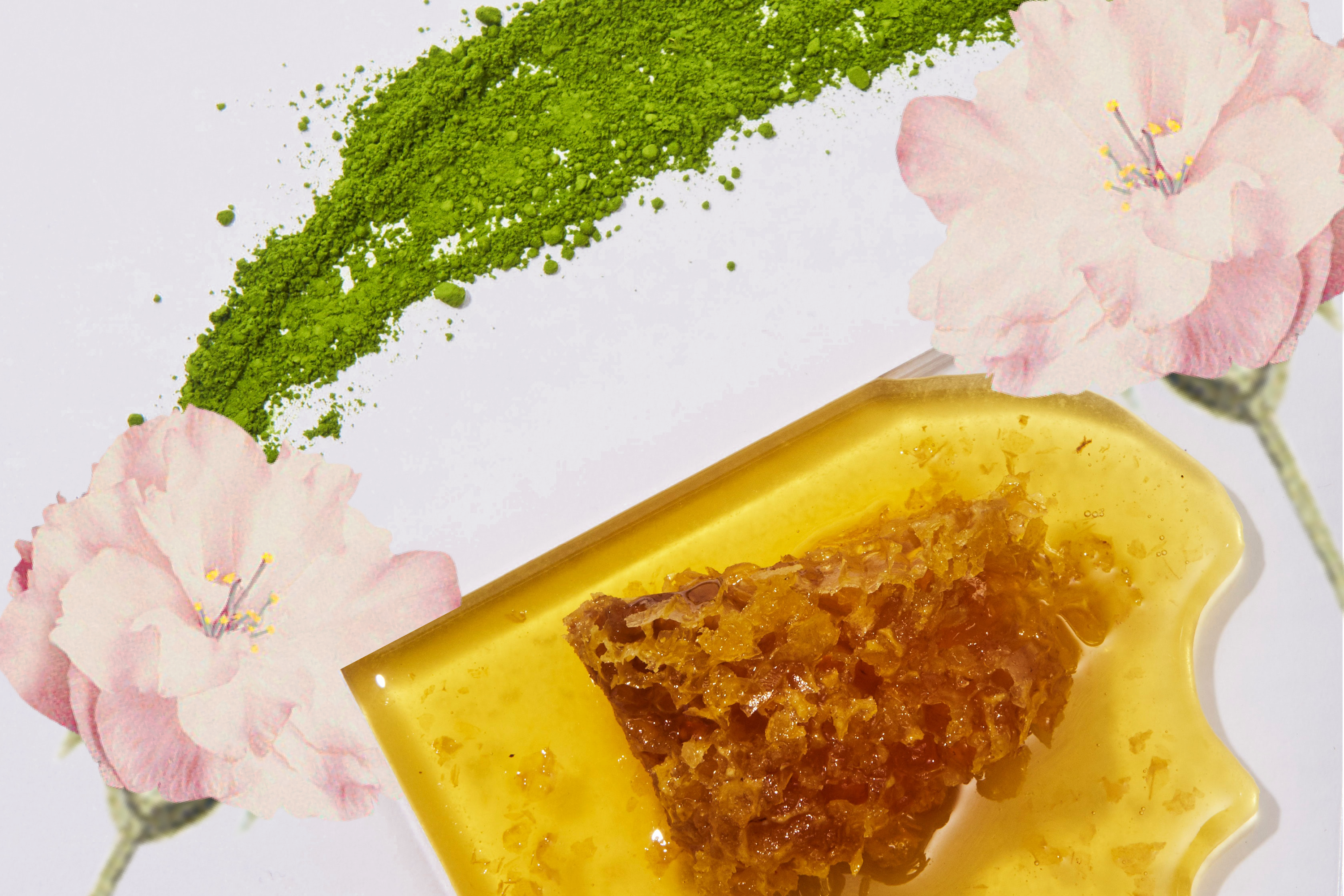 More than ever we must connect back to nature. The short-lived appearance of the sakura reminds us to take a step back, take a deep breath and appreciate our lives. Hopefully, these activities give you the chance to reflect and celebrate the encompassing beauty that we are blessed to witness every year.