Growing up in rural Queensland, Australian Top Chef Shaun Hergatt developed his passion for food at a young age as his Scandanavian grandmother and his father, a professional chef, introduced him to flavorful and unique dishes. Now, Shaun Hergatt is well-known for his technically precise cooking, blending the modern with the classical, and his painterly presentations. Hergatt is inspired by childhood memories, nature, art and his daily life in New York.

"My entire life has now been driven to build this completely insane life."
Classically-trained yet redefining what modern cuisine means, Chef Shaun Hergatt has earned the privilege of experimenting in the culinary realm as a result of his fruitful professional journey: full of experiences and inspirations from all around the world. Known for his artistically curated presentations and precise cooking, his influences stem from nature, art, childhood memories and daily life.
"Many of the dishes reflect my observations of nature, whether that's something I've noticed walking my dog around Central Park or out in the fields with my farmer in Ohio. Even a childhood memory of planting seeds or picking cherries with my grandmother can be the inspiration I use. Growing up, nature was an important part of my education. When you've picked a ripe guava fruit that hasn't been treated with pesticides, you know what that fruit looks and tastes like at its very best. Respecting ingredients is something that is central to my heritage, upbringing and my day to day life," explains Chef Hergatt.
This year, Chef Sean Hergatt has joined forces with TEALEAVES to add a new product to his wealth of experiences. As a dear friend of the TEALEAVES family, we have worked together on a brand new custom tea blend for spring/summer 2021. Inspired by the elegance, simplicity, yet complex nature of his cooking, the latest addition to the menu of TEALEAVES custom blends is Timeless, by Chef Shaun Hergatt.
Shaun Hergatt, chef, restaurateur, creative, and culinary professional, is dedicated to his craft and is consistently pushing the envelope through his unique concepts, solutions, and ideations impacted by his understanding of American cuisine, international cuisine, and food dynamics.
His culinary journey started in Australia. At 17, with an ever-ambitious spirit that had always felt that cooking was "in his blood," he pursued a four-year apprenticeship at Crystal Twig: a fine dining restaurant in Cairns where he was trained in classic French cooking. To follow, he moved to Sydney to experience its vibrant dining culture and was intrigued by the wealth of international ingredients, including exotic seafood, zesty citruses and fragrant spices. In 1997, at the age of 23, he became chef de cuisine of The Dining Room at The Ritz-Carlton, Sydney, where he quickly earned international accolades including an AHA "Best Young Chef" award in 2000, while the restaurant was named "Top 5 Up and Coming Restaurants in the World" by Condé Nast Traveler and received a Gold Medal from the prestigious International Salon Culinaire.
Delve into Chef SHAUN HERGATT's one-of-a-kind creations & projects with TEALEAVES
After his successes in his home country, he decided to make his New York City debut in 2000. There he first joined Atelier at The Ritz-Carlton Central Park in New York City as chef de cuisine. With his finesse and dedication, the restaurant received a James Beard nomination for "Best New Restaurant" and The New York Times awarded it three stars.
Five years later, he moved to the South to become the executive chef at The Setai in Miami, which garnered a three-star review from The Miami Herald and a "Best New Restaurant" award from Esquire. The restaurant also placed second in the world on Conde Nast Traveler's "Gold List" in 2008 and 2009.
In 2009, Chef Hergatt returned to New York to open his fine dining establishment SHO Shaun Hergatt, in the Financial District. Channeling his passion for hospitality and his prestigious background, Chef Hergatt's talent brought unparalleled acclaim to the neighborhood's culinary landscape and he was recognized as "Best New Chef'' by New York magazine. The restaurant earned 2 Michelin stars, a two-star review in the New York Times, a 29 out of 30 Zagat rating across the board, and "Best New Restaurant'' accolades from Esquire and New York magazine. Chef Hergatt's restaurant, Juni, which closed in 2016, also earned a Michelin star for its polished tasting menu. With a plethora of awards and recognitions in his repertoire, he has continuously pushed forward in the industry and has most recently opened a residents-only restaurant at a luxury Midtown skyscraper, 432 Park Avenue.
In Chef Hergatt's most recent venture, despite the challenge of the COVID-19 pandemic, he has opened a new jaunt in the SoHo district of New York City: Vestry. He has intentionally set out to deviate from his white tablecloth background to pursue a fresh approach to neighborhood dining. The result is an approachable and playful dining experience that maintains bold flavors, skillful technique and colorful presentations at the core.The Japanese-inspired menu is rooted in long-standing relationships with local producers and foragers, keeping it seasonal and largely focused on vegetables and seafood. From red beets with preserved plum and beet chips, to ocean trout with nashi pear, to Hinoki, the menu promises to showcase a diverse range of flavors.
What is a TEALEAVES Icon? Throughout the years, we have had the pleasure of working with distinguished chefs and mixologists, masters of their respective fields, who are frequently making innovative and creative strides, breaking the boundaries, and reshaping the definition of culinary culture. To us, they are iconic and we want to share their genius with you.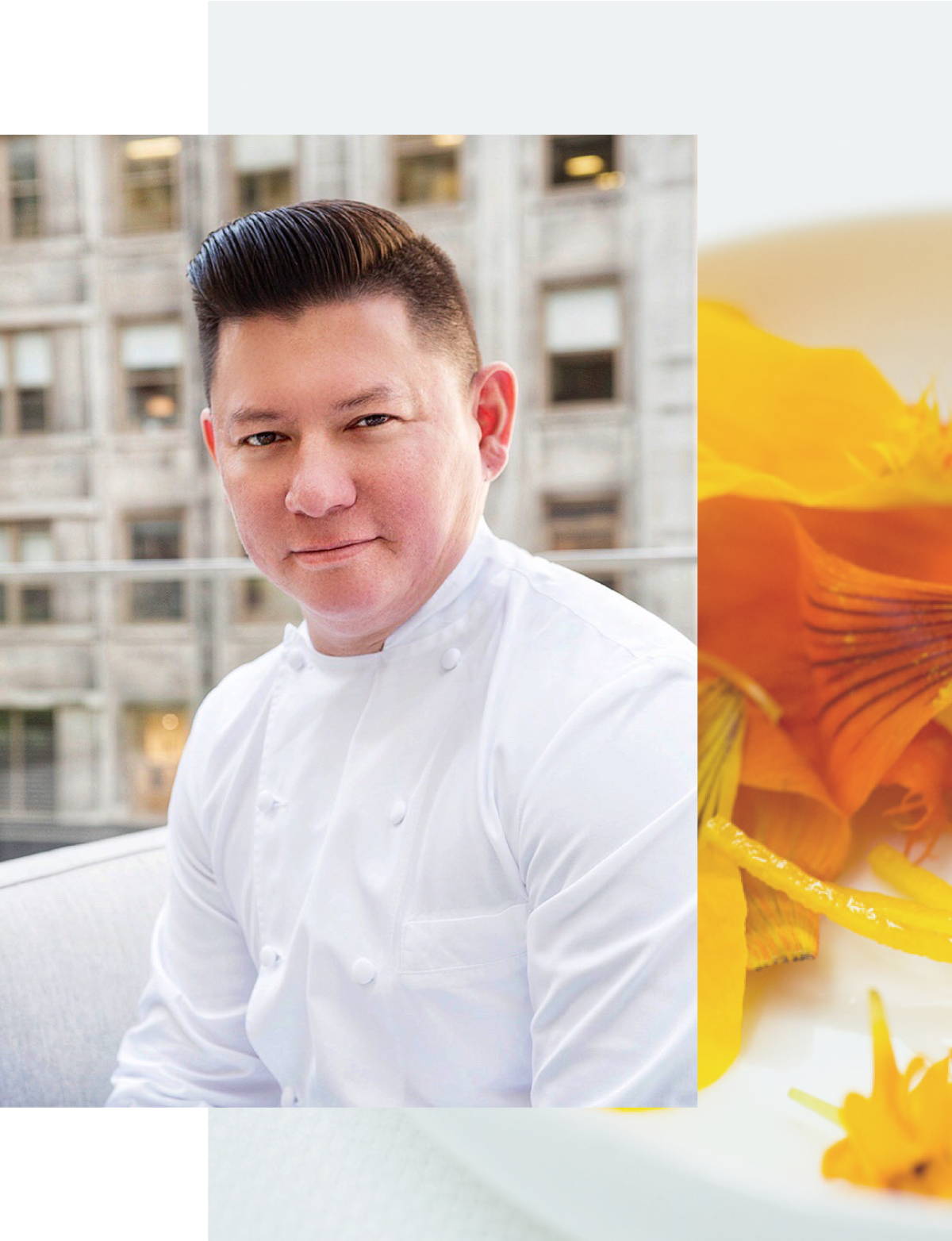 1. His previous NYC restaurants SHO and Juni both earned Michelin stars

2. His restaurant SHO was awarded "Best New Restaurant" by both Esquire and New York Magazine. He was also recognized as "Best New Chef" by New York Magazine

3. Despite the COVID-19 pandemic, Shaun Hergatt opened the upscale Vestry restaurant in SoHo, New York City: A dinner-only Japanese-influenced restaurant serving seafood and vegetable-focused dishes